on Sun Jun 12, 2016 2:55 pm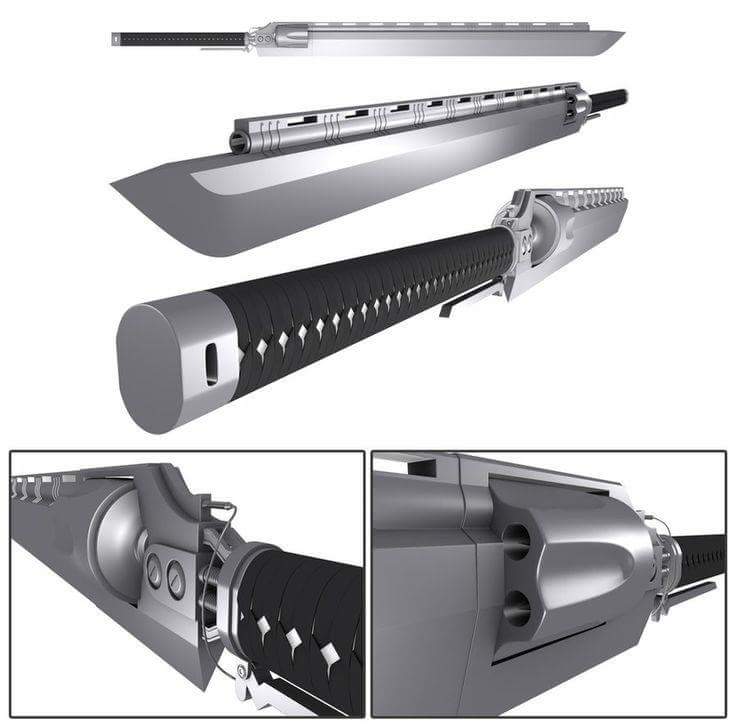 Name
: Raionhāto
Rank
: S
Type
: Sword: Gun Blade
Materials
: Carbon Steel
Visual Description
: Raionhāto is a special type of sword known as a Gunblade a sword blade with a gun action built into the hilt, the barrel running inside the length of the blade. For Raionhāto this barrel is on top of the blade ending about 2 inches before the actual tip of the blade. With the total length of the blade being 38 inches while the hilt itself is another 4 inches.
Power
: 500
Endurance
: 500
Ability
:
Medium Ability
Burst- Raionhāto's ability goes along with the Type of sword it is. Being the fact that it is a gunblade and has a barrel and is capable of shooting like a Gun. Using the structure on the not sharp side of the blade, the user may combine this with their elemental chakra to release said element in the form of either a stream (I.e. a Flame Thrower) or in a multiple of 5 burst shots (I.e. 5 Lightning Bolts). The speed at which these travel are 200 with a 15 M reach, their power level is 250.
Cost
: Weapon(Free) Ability(6,00)
Requirements
:
Elements: Fire, Lightning
Strength: 150
Buki: Master level
on Sun Jun 12, 2016 2:59 pm
Denied. No gun or anything related to guns.
Clanless

Posts

:
483
Join date

:
2016-03-19
Location

:
With Mother
Character sheet
Element:
on Sun Jun 12, 2016 3:06 pm
Its just a sword with a projectile based ability, Gunblade is just the name of it, its not a gun shooting bullets. Its jutsu a sword that can shoot out jutsu and has a specific part of the sword to focus and contain the chakra used for the swords abilities. So may i ask why it would not be allowed ?
on Sun Jun 12, 2016 4:25 pm
I had already asked Kuro about this. He said no to it, which is why I put down no. anything even related to how guns work, with a trigger, hairpin, barrel and stuff is not allowed.
Clanless

Posts

:
483
Join date

:
2016-03-19
Location

:
With Mother
Character sheet
Element:

Similar topics
---
Permissions in this forum:
You
cannot
reply to topics in this forum