on Wed Jun 08, 2016 10:34 am
Name
: Uzumaki's Segmented Blade(USB)
Rank
:S
Type
: Sword/Whip
Materials
: Metal, Thread
Visual Description
: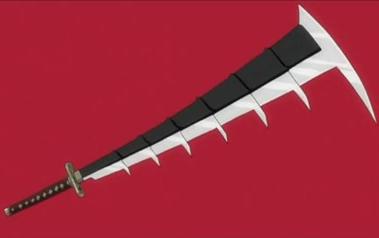 The USB 6-part segmented blade; each segment is six inches in length, and wider than the one preceding it from the hilt, with 2 pick-like protrusions on the front and back of each segment, with the ones on the front much longer than the ones on the back. This makes the blade 36 inches(3 Feet). The segments themselves aren't flexible, but they are connected by a stretchable thread, making USB more useful as a whip than an actual sword, however, it can serve as a regular sword just as easily.
Power
:650
Endurance
:450
Ability
:
Major
-Via a seal drawn on the base segment, USB's segments can grow in number up to 100 meters. There are 10 segments in total that can be made. Each segment costs 5 chakra to generate(50 chakra for all 10). Once stretched, Sen uses it as an extension of his body, like his arms and legs, and he has used it in a variety of ways. He can use its extension ability to attack an opponent from behind, or either the left or right, without giving away the variation of his attack until it is too late. He has considerable skill in using his extension capabilities to constrict opponents, surrounding them from various angles and then retracting the blade in order to crush his adversaries. It strikes at the users speed.
Medium
- In the event that the segments are disconnected or broken, Sen is able to use his chakra to levitate the segments in the air, allowing him to execute a one shot omnidirectional attack at the cost of.The segments must be 15 meters from the user in order for them to move, flying anywhere within that radius for a 10 chakra cost for each segment. The speed in which the projectiles fly is the users speed and add 50 to the power of the weapon. Bringing the segments back cost an additional 10 chakra per segment.
Cost
: 20,500
Requirements
: Bukijutsu Skill Level 4+
Last edited by Sen J. Uzumaki on Tue Jun 14, 2016 8:03 pm; edited 4 times in total
on Sun Jun 12, 2016 3:59 pm
on Tue Jun 14, 2016 12:06 am
Okay, Renji- I mean Sen J. I'mma take a shot in the dark and start working on this. So this post will begin on the basics!

• Please provide an actual measurement basis for each segment.
• Please add a proper range onto the Minor so it's known how far away you can be from broken segments and still being them back.
• Please add a speed to the minor.
• Actually just completely be more descriptive with the minor. One shot omnidirectional attack? This is Naruto, buddy! Ya gotta give me the dirty secrets. Does it return back to the sword? Do the segments shoot further out away from you! Etc. Description is key!
on Tue Jun 14, 2016 6:56 pm
on Tue Jun 14, 2016 7:12 pm
Round Two!
Alright! The changes so far are going decently! Now we're going to move on to the fine tuning of your weapon!
• Limit the segment maximum to 75
• Please state whether or not the segments are flexible enough to curve or such.
• Make a chakra cost for how much you need to pay to make each segment!
Do these three things and I think you're okay!
Now for ability two.
• Create an activation cost to launch the segments and a separate activation cost to bring them back to your sword.
• Label this as a Medium ability instead of a Minor
• Reduce the statistic increase to 50 points instead of 100
on Tue Jun 14, 2016 7:43 pm
on Tue Jun 14, 2016 7:54 pm
Major
• You can keep the 100 meter range. Limit the amount of segments you can make! Then add the chakra cost to how much it costs to generate each segment!
Minor
• Approved!
on Tue Jun 14, 2016 8:04 pm
on Tue Jun 14, 2016 8:06 pm
Approved!
Unless someone overrides me, go have fun with it!
-Omoi
---
Permissions in this forum:
You
cannot
reply to topics in this forum