on Wed Mar 15, 2017 12:11 pm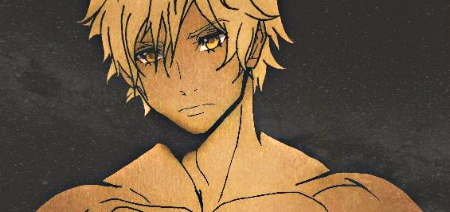 AND HE WAS GOD

In the expanse of the Everspace floated the great ship, flying through a seemingly endless ocean of stars, rocks, planets, moons and other strange debris for which no place was found. Aquiles was silent as he stood in the middle of an enormous room in which the main control panels for the spaceship were being manned by no less than one hundred Khlorian Kaisers. Having enough sentience to operate various plant-technology themselves, he simply stared out into space with various musings. It looked so familiar to him that it was almost nauseating. Aquiles was brought up to believe that he had been nothing more than an experiment of the Ootsutsuki, designed to do nothing else but ensure their survival on Earth as well as protect them by any means necessary. Yet he found that as he looked into the bright meridians of dying stars, motionless planets, and the various cosmic tornadoes by which the spaceship passed on its course to Sol, he felt as though he was more at home in this void than he had ever been in the laboratory.
The space-ship was uniquely created by Aquiles in preparation for this trip. Months ago, Kurotsuchi had summoned the young man who as of late, had been rebelling against his guardians. Fearing that his subconscious might be awakening to the strange and paradoxical reality that had been his life for the past sixteen years, Kurotsuchi devised a plan to kill two birds with one stone. Ever since the war fifty years ago, the Mizukage had been on the private hunt for new worlds for the Ootsutsuki to inhabit. Having very little interstellar technology with which to achieve this goal, he had all but given up. During the regular escapades to underwater Vanirian Temples that a small sect of Ootsutsuki under Kuro's command undertook, they discovered a series of caves with what was later discerned to be a map. It appeared from what they could decipher, that the intial arrival of the Vanir was with a multitude much larger than existed in Kaguya's time. The drawings on the caves seemed to suggest that a great mass of Vanirians were sent off to find a new world for the Ootsutsuki in case the Earth proved to be unihabitable Given that they were the last of the Vanirian race, it was seen as too dangerous to have all the species in one foreign planet at a time; what if they were wiped out by the inhabitants? Thus, it was also shown that this multitude left behind a map to which they could be found if those Vanirians on Earth ever chose to find them. Kurotsuchi lacked the technology for interstellar, much less interdimensional travel; but it would seem fate was on his side given a rare and priceless asset that he had been hiding for the past sixteen years - Mithrandir. Knowing that their origins were from nearby if not exactly the same dimension, he knew that the boy whom he had renamed Aquiles was his only chance at finding this race of people. In addition, it appeared the Mizukage had other private curiosities that he would share with no one as to why he would like to visit one of the Ootsutsuki home worlds once more.
The common fable that humans were told about the Ootsutsuki is that they were form the moon; Earth's moon. This was a lie fabricated by the Ootsutsuki upon arriving to Earth and dwelling among primative mankind. To explain their true origin would be like explaining calculus to ants; and thus they learned to translate best they could that they were from above. Since "above" to them was about as vague as their language allowed a word to be, they pointed to the only visible object they could see in the sky save for the sun itself; the moon. Thus it was believed for centuries that the Ootsutsuki were from the neighbouring moon. In truth, however, the Ootsutsuki were not from this dimension; a concept humans only now could even begin to comprehend. They were not in another room in the house, nor were they another house in the neighborhood; they were from a different country. Since the distance between the Earth and the location in which they desired to go was so vast, it would take extraordinary efforts in order to reach; and in order to keep it a secret. However it would appear that the Mizukage possessed unusual trust and belief in Aquiles capacity to help him in this matter, as he put him to the task of this project alone.
Spoiler:


"You summoned me, Shodai.." Aquiles spoke as he knelt before the throne of Kurotsuchi.

"Yes, yes my boy. I hear you've been having some time obeying yer orders lately eh?"

"Yes sir." Aquiles responded quietly, still knelt.

"Go ahead and face me, yer not in too much trouble."

It was considered impolite and even blasphemous to look a sovereign in the face in this culture; thus, it was a privlege for Aquiles to look Kurotsuchi in the face for the first time, establishing at that point a deeper trust between the two.

"I need yer help getting to a place far, far away from here. A place called Thera, the last recorded location of my people. It is not of this galaxy but of another; and we will need to travel into another dimension in order to do so. My scribes calculate that it will take us roughly one year to reach that world; yet by Earth's time it will only be roughly a month of abscence; for which i have already made preparations to put Lord Kagura in charge. You and I will go to see if there are any survivors, artifacts, or potential for life at all. In exchange, I will enable you freedom from the lab, the doctors and all others. You will remain hidden still among my people; yet I will grant you the ability to walk freely about the Kingdom."

Aquiles's was not shocked at the idea that the Mizukage desired to leave this world in search for another. For he had many times overheard that kind of implication by the scientists that kept watch over him. They were continually trying to find ways to enable Ootsutsuki to survive in space for interstellar trips; a subject that seemed to frustrate them quite often. Something they had desired to utilize in Aquiles was his regenerative capabilities; for such things as intense heat and no oxygen had no negative effect on his body. Aquiles liked the idea of being free to leave the prison that he had spent his life in, and calculated that he would indeed figure out a way to aid the Mizukage if it meant coming back to a better, freer life.

"I accept of course, Lord first. Yet I must confess i am unsure as to how i can be of use. I know nothing of space, nor do i possess the abilities to get us there. The doctors say my powers could make it possible; but i know not how."

Kurotsuchi chuckled, full wellk knowing that it was only by the induced and maintained ignorance of the boy that he could ever feel inadequate for such a task as this. Yet he regained his composure seemingly, and looked at Aquiles with a serious and yet challenging expression.

"You have three days to build us a spaceship my boy. One that will enable us to travel through spacetime. In three days there is an opening through an ancient Ootsutsuki stargate; it will be the first one in centuries, and likely the last. We will exit through that with your spaceship, and fly west until we find what we are looking for. Trust your instincts and creativity - don't let me down."

Aquiles stood upright at those words and without thinking further, nodded at the words of the sovereign before leaving swiftly from the court.

Aquiles, right after leaving, had made plans for as to how exactly such a task would be completed. He was granted access to information about space and the science of travel by the sacred Ootsutsuki libraries in order to aid him. What he discovered seem to be layers and layers of information that no one could comprehend in three days; yet at the same time reading them was much more like remembering than learning for some strange reason. Thus, within about a day and a half he understood what kind of vehicle would be necessary for them to take off successfully. Understanding his own biological makeup, as well as the Emperor's, he was fully capable now of creating a craft that would survive the test of space and space-time.
He created with raw chakra a series of spacecrafts made of pure plant material. Due the Mokodon element, he was able to create extra-terrestrial plants, which made this process unusually efficient. You see, Aquiles had learned to become a student of himself over the years, since he was all that he had. Being ignorant of his own origins, he never put the thought into molding his abilities to enable space travel up untilt his point. Nor was he aware that the various species of plants that he could create were not only foreign to the Earth; but foreign to any world. Understanding well their nature himself, however, he was able to pick the proper material for the craft desired. Thus he created the rough draft of the craft out of raw plants, and it was roughly five hundred meters in circumference. Next, he laced the plants with crystal, giving them a greater rigidity as well as added protection against many of the things the ship might come into contact with - like meteors. Understanding that the extreme temperatures as well as atmosphere (or lack there of) management would be a great factor, he studied the Earth's atmosphere as well as the needs of the Ootsutsuki cardiovascular system in order to create a well-monitored air system within the ship that would enable breathing under all conditions; and keep out foreign gasses. Lastly, he knew that the greatest problem of all would be propulsion. The reason the majority of races had never been able to conduct interstellar travel was primarily because of energy. They could not harness enough to get anywhere in space. One would need so much for a year's trip that there was no way electricity, chakra or any other normal means of power could be used; there simply wasn't enough of it. However Aquiles had something that was the key discovered by all advanced races who had learned how to finally get from point A to B in the universe; light. Light energy was the most powerful, pure, and lasting energy in any universe. And the harnessing of it was what would enable such travel. Thus understanding, Aquiles created Zohar stars and placed them throughout the membrane of ship, and created a way in which they could be maintained. Perhaps discovering something that would one day make him nearly unstoppable in battle, he crafted the stars so that they not only empowered the ship, but let out their radiation both inside and outside of the ship. This would cause two things according to his theory; one, it would enable an added aura/forcefield to guard the ship; two, it would enable for Aquiles as well as his cells/plants to be continually nourished by their ability to absorb starlight. It was like investing ten dollars to make one-hundred thousand. Thus the efficiency of his KKG was displayed like never before in this unique creation, and upon the evening of the second day, it was presented to the Mizukage.
The plan was for them to exit through the wormhole and then travel across nine galaxies until they reached the solar system with the red star known as Sol, the star that shone upon the Ootsutsuki home world. Aquiles created a plant-interface technology that reacted to his central nervous system as well as to the will of his creatures. Thus, it enabled them to fashion technology on the ship that would steer it in a created flight-plan as well as self-monitor various safety hazards while on flight. The ship was large enough to carry over ten thousand passengers, as the Mizukage had optimistically guessed that if the full clan was there, and had grown even, they would be roughly around that size. Aquiles had planned well for this indeed during its initial creation. For he had created that many plant pods all throughout the ship, into which the Ootsutsuki found on their homeworld would go into an induced sleep whilst traveling from their world back to Earth. The green plant liquid that they would be kept in was filled with various proteins and enzymes to preserve them perfectly and stop aging temporarily. Thus, Aquiles created the means to reaching another world.
In the present time, he stood looking out as they were now in the twelfth month. Soon it would be time to awaken the Mizukage from his necro-sleep as Aquiles predicted that within the next twelve hours they would be touching down on Thera. Passing by the dying star Sol, its radiation was swiftly absorbed by the ship, and for a few hours everything in the ship, including the plants and Aquiles even - turned burnt red as they became rich with empowerment from it. Aquiles looked past the various planets they passed up on their way to Thera and mourned that there was no life there. He longed to see something different. And by different, he meant different from everything else. For that was who and how he was; different. Thus he could only help but feel that anyone who was neither Ootsutsuki nor human would be more like him than anyone he had ever met. Kurotsuchi had lied to the boy and told him that Thera was the planet upon which he was created initially, and thus that the people here would be overjoyed to welcome him home. Aquiles had to admit that brought the expectancy of joy to his heart; though the void remained.
Thera finally came into view. A pale blue planet with very little able to be seen through its thick and foggy atmosphere. So far from the weakened Star Sol, the plant interface predicted that the temperature could be anywhere from below one hundred degrees to below one thousand. Aquiles had already made preparations to protect the Mizukage in such a case; but yet held on to the hope that the planet would be more hospitable than that. As they dropped down and were about one hour from reaching down onto the planet itself, Aquiles ordered the two Khlorian Kaisers that guarded the pod of the Mizukage to awaken him.
Spoiler:

2,458 WC


IN A WORLD OF GRAY

Last edited by Eververse on Wed Mar 15, 2017 3:57 pm; edited 1 time in total

_________________
[22:17:04] @ Noir Senju : I'm legitly loosing everything if I lose.
[12:09:51] Jianyu Uchiha : We gotta keep competitive in the arms race of which land has how many Sorikata.
[21:26:29] Rei Uchiha : If you have beef with someone, let them know & give far chance
[16:55:16] Psychosis : Maybe but people get PISSED when you take shit away from them based on a misunderstanding.
[16:55:23] Psychosis : A lot of being staff is knowing how to not piss people off.
[16:56:30] Psychosis : Have you met most RPers?
[20:12:14] Muroku Washiba : This is no WE is MEssiah
[14:26:12]Cecilia Terumi : Pretty much let the snake find the hole, and make it fit. >>
[19:59:06] Valentina Yuki : I am the senior director of playing with penises on this site.
19:23:14] @ Neah Senju : and i would edo tensei him but
[19:23:27] @ Neah Senju : then hed be a immortal being with unlimited chakra xD
on Wed Mar 15, 2017 1:45 pm
"Shodaime sama, surely you don't mean to reveal everything to him? Would it not be wise to gain as much as possible from him? Have you forgotten the disaster of what is half a century ago? We went to war, and survived, but it was not without casualties. You yourself was on death's bed, and had it not been for that fail safe, then we would be in a completely different scenario. I beseech you to reconsider your current course of action. This can only end in complete disaster!".
"Kurotsuchi sama... as much I would like to shrug off Tenjiro's dono's words as paranoia, I too share the same concerns. What if this doesn't work out? What will happen when he discovers the truth? Another war would be certain to take place, thus repeating the cycle. I ache from this never ending cycle. Just having him around brings fear among the people. I fear especially for humans, for they are most feeble. With that said Shodaime sama, I beg of you to reconsider your current course of action".  
And so it was, Kurotsuchi found himself sitting down sharing a few words with his advisers. These men were clearly concerned by what was about to take place. But they also lacked understanding of the true nature of things. Here we have Tenjiro, a man who could be said to be Kurotsuchi's elder. Tenjiro is said to be a man of infinite wisdom, most wise and intelligence. He was also extremely loyal to the Otsutsuki and wished for nothing more than the clan's continued prosperity. The very idea of a "clan" brought forth disdain from the Mizukage. Its a concept which the Otsutsuki must never restrict themselves to. They are a people and not a mere clan. Unfortunately however, living among humans and on earth for as long as they have. One could not help but adopt some of the things that humans do on a daily basis. Still though, Kurotsuchi was a fair man, and will often heed the council of his peers. There are only a few that the Mizukage trusts with such things. His advisers also know the man very well. They know Kurotsuchi to be a man of tradition, but also not above breaking the rules. This was often a necessity, showing his ability to adopt, hence the reason why the Otsutsuki has survived for so long. Even when faced with extinction did they prevail. Perseverance was key to their longevity and survival. In the case of Tenjiro, he was a tall man, standing at six foot seven inches tall. A bit of a giant, possessing a body structure that was in top condition. This man is no doubt a warrior, but carried himself with grace and elegance. The other person in the room was a younger man. But despite this, Kurotsuchi valued his council, hence why he is also an adviser to the Mizukage. The leader of the Otsutsuki clan so happens to be the first Mizukage. Often times it is a tough task balancing clan and village wide duties. The Mizukage most certainly care a lot about the people of Kirigakure.
He is as fierce as they come when it come to protecting his people. Otsutsuki clan members and others alike. Such a thing did not matter at all, and this is why he is so loved by his people. In any case though, the Mizukage sat back and raised his right hand. His right index finger stood erect and was placed against the right side of his face. His index finger found rest next to his right eye. The thumb of the Mizukage rested on his cheek, meanwhile his middle, ring and pinky fingers folded. The Mizukage needed to think. The room had fell silent after Genji spoke and voiced his own concerns. The Mizukage found what they said most amusing to say the least. A sigh escaped his lips as the man perched up and looked at his advisers. A wide grin appeared on his face, meanwhile his Tenseigan commanded the attention of Genji and Tenjiro.
"How strange, ya both said almost the same thing. Goodness me, all this fuss over nothing really. Do ya fear death so much that you'd do whatever to cling to life? We may not be humans, however, we too can and will die at some point. Might not be today or tomorrow, could even be a thousand years from now. With that said though, I do implore ya both not to make the mistake of thinking me not of sound mine. A disaster of a war took place fifty years ago. It shook the very foundations of the Shinobi world. Many nations are still recuperating from the trauma. And now more than ever, I feel as if we have three times as many enemies. Is it just me or does everyone want me dead? Don't answer that just yet.
Do keep this mind though. It has always been my intention to reveal to him the truth. Piece by piece I shall give it all back to him. And hey, if we gotta wage war against each other again, then so be it. Could be rather fun, seeing as I grow bored and tired of this existence. Had it not been for that woman, Tifa, then I might have chosen a successor ages ago. Alas, fear not though, we're all apart of this together. Aquiles, or should I say Mithrandir? Is it taboo to even mention such a name? Does it really matter? I am merely curious about the way in which things will turn out. Will he be the same as before? The arrogance of his former self amused me a lot. I would get bored being that strong with only a few opponents to stand against ya. For the longest while, I had restrained myself somewhat. Think of all our enemies that have outlived their expiry date. I know all too well that should they fall, then there would be no fun. The struggle makes one feel alive. So hey, I have seen what Mithrandir can do. And I do not envy that poor soul. I do pity him however. And that is exactly why I have no fear of him. He is alone, but we have each other. It is better to be a bunch of weaklings but belong somewhere. Than to be this all power person forever lonely.
Trust me on this, I will reveal it all to him, and in the mean time give him a choice. For the longest while it may have come across as manipulation. Him living in servitude. Far from it. He's the one that's been free, enjoying the most freedom without even realizing it. By keeping him among us, was our way of protecting him from the world. Don't even know why I even lifted a finger in aide". The truth was now coming to light, Kurotsuchi motives appearing to be very different to everyone else's. Now then, how shall he take things forward? Looking at Tenjiro and Genji made him chuckle even further. The wheels were already in motion, and now wasn't the time to put the breaks on. The Mizukage still wanted to confirm something.
"Shodaime sama, I had no idea..."
"Me neither, since for the longest time I thought he was simply an instrument. I still fear that he won't even grasp what is taking place here. Or even what you've been up to all this time".
Tenjiro and Genji spoke, which brought to Kurotsuchi's face. The Mizukage soon stood and looked at both men. "I gotta at least see whats out there. However, should I not return, then there are two or three individuals capable to leading our people. Unless of course, you two wanna throw yer hats in?".
That Was Two Days Ago...
Now then, Kurotsuchi found himself gazing up at the spectacle that Aquiles had created. The ship that was their form of travel to the outer realms was completely. The Mizukage inspected the creation, noting it to be completely of Mithrandir. A most dangerous thing, but the fearless man boarded the vessel nonetheless. This wasn't a voyage often undertaken, so why not take part? The Shinobi brought along him all his weapon, most of it in scrolls. He was preparing for a battle with whatever other aliens he might find whilst away. In the back of his mind though, Kurotsuchi felt excited and a small dose of uneasiness. What if Kirigakure came under attack while he was away? He shouldn't be gone that long anyway, and so it should be fine. Besides, no one ever really saw fit to attack the village. The Mizukage was certain that they would be met with resistance and reasonable force. In any case though one must move one.  
Kurotsuchi found himself found himself being woken up as was agreed. For it would appear that they finally made it to where they needed to be. The Mizukage sat up and yawned while stretching his arms. It was a good rest, and so far everything seems to be in tact. The man smiled as he disembarked from his current quarters. Soon enough he made his way to where Aquiles was, his eyes gazing out into the distance. "Seems yer came through in the end, Aquiles. So then, how are ya feeling right now? I am certainly feeling a lil nostalgic, what about ya?". The Mizukage was obviosuly dropping an hint of sorts. Aquiles may not yet come to realize it, but there was no need to rush. They had time on their hands. Resting during the trip did a lot of good for the man. Now they simply needed to decide on their next course of action. Just what kind of a welcome will they receive? Furthermore, would they find anyone or anything of value for that matter? The Shinobi was most curious to say the least, and was dreading going back empty handed. There must be some kind of discovery or a story to tell. Of that he was most certain, as such it was not yet time for him to despair at all.
1650 Words..
on Thu Mar 16, 2017 8:38 am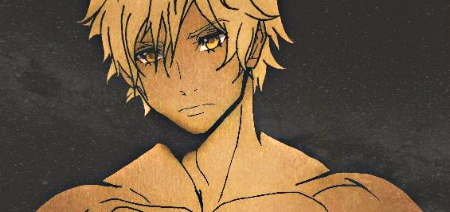 AND HE WAS GOD

Thera was a silent planet.
"Indeed Shodaime; I've felt nothing but awe and curiosity since we left Earth."
The ship touched down after passing through what felt like an ocean of clouds that seemed to be far richer than any encountered on the Earth. It was almost as if they swam through the air currents in the atmosphere, the gusts so powerful that no amount of power steering could fully resist them. The plant's dense material made it so that the ride was never uncomfortable for the passengers, and yet still it was a somewhat startling entrance into the world. Breaking through the clouds finally, they flew down and hovered about three thousand meters above the ground, flying in and out of a mountain range. The plant interface designed within the ship calculated the atmosphereric qualities were perfectly suitable for life; and the temperatures were moderate in comparison to their initial predictions. It was about ten degreees below zero according to the ship's readings, thus making it cold but nothing death defying. It could be calculated as they initially passed by the star Sol that the days on this planet were roughly 12 hours long, and the nights were 20 hours. This was largely due to the distance of the planet from the sun, as well as the fact that it appeared the star Sol was dying. Perhaps that was the reason for the seeming abscence of any life. Aquiles's life force had increased ten fold during the trip. The continual absorption of the ship's self-radiating energy coupled with the occasional absorption of solar energy from nearby stars had brough him to an enormous level of power. In tandum, his Kaisers had also been drinking richly from the everlasting fountain that was his essence. That being said, he knew that scouring the planet, according to its predicted size, would normally take months. However in the past two weeks he had been thoroughly planning exactly how the search for these Ootsutsuki would be planned out and with greater efficiency. His prediction was that come nightfall, the planet might grow to be so cold that biological life could not survive. The Mizukage would be kept warm and safe at all times inside of the ship of course, but he was weary of all potential dangers that might make the trip compromising. Thus, he decided that he would touch down at the first place they found that looked like it was a city of some sort, and in the meantime deploy Kaisers all over the planet to be his eyes and ears. The ship stopped mid air, just below the great foggy clouds that melted under the red sun producing rain everyhwere. The Mizukage had awoken just now and before giving him the game plan, Aquiles set out to give orders to his troops. He had a total of two hundred Kaisers present on the main deck at this point, with the Mizukage straight behind him as he used telepathy to organize these eight-foot tall light-walkers. He spread them out eight sets of twenty five. Seven of those sets took smaller plant-ships and flew out into various directions with instructions to search for any signs of life and report back. The last set of twenty five would stay near Aquiles and the Mizukage for protection. His cells still invigorated by the thick energy of the sun known as Sol, Aquiles was radiating dark red from head to toe; as were the kaisers that would be coming with himself and the Mizukage. Ther adiation of the ship had been temporarily turned off upon the release of the Mizukage from his pod to ensure that he was not harmed, and though Aquiles bled light on him continually, he ensured it would have no affect. Strange armor comprised of pure red star-light was created by the Kaisers, as well as long sword-like spears held in all eight of their hands. Aquiles was quite certain that with the added power he had gained during the trip, he and his army would be more than sufficient to defend against any threat that should come up against Kurotsuchi or himself; and thus there were no worries. Yet still they proceeded with caution as the ship touched down in the middle fo a small valley nestled in between mountains so large they seemed to touch space itself. The ship opened up a small door with a dock and down proceeded ten Kaisers, followed by Aquiles and hopefully the Mizukage; behind them were another fifteen.
"Shodaime; I have sent roughly 175 troops all around the planet in search for any signs of life. You will be alerted as soon as any is found. My life force has been temporarily multiplied, as has my sensory. I can feel and see all life forms and energy roughly within an eleven thousand meter radius, in addition to shared vision with my Kaisers who are now elsewhere. I have seen that there is what looks to be a castle of sorts roughly one thousand meters from here, and I figured we would travel by foot just to avoid being seen. I know the Ootstsuki see all things, yet if we come on foot we might appear as less of a threat in case they are in hiding. Please inform me of any information you know otherwise about this planet or its inhabitants. I'm carrying with me the means for sustanance as well as clothing and housing if needed; please inform me if you experience discomfort from the conditions. We have roughly six hours until sundown, in which time we must be back inside of the ship, or create a temporary dwelling where we will be able to be out of the cold."
Auiles paused now, looking at Kurotsuchi as the two stood in the valley with Kaisers all around them. He realized he had not taken the time to ask his superior as to what ideas and plans he had. After all, this was Kurotuchi's idea and mission; Aquiles was only there to support.
"Forgive me Shodaime, my excitement has overtaken me. What is your will?"
IN A WORLD OF GRAY


_________________
[22:17:04] @ Noir Senju : I'm legitly loosing everything if I lose.
[12:09:51] Jianyu Uchiha : We gotta keep competitive in the arms race of which land has how many Sorikata.
[21:26:29] Rei Uchiha : If you have beef with someone, let them know & give far chance
[16:55:16] Psychosis : Maybe but people get PISSED when you take shit away from them based on a misunderstanding.
[16:55:23] Psychosis : A lot of being staff is knowing how to not piss people off.
[16:56:30] Psychosis : Have you met most RPers?
[20:12:14] Muroku Washiba : This is no WE is MEssiah
[14:26:12]Cecilia Terumi : Pretty much let the snake find the hole, and make it fit. >>
[19:59:06] Valentina Yuki : I am the senior director of playing with penises on this site.
19:23:14] @ Neah Senju : and i would edo tensei him but
[19:23:27] @ Neah Senju : then hed be a immortal being with unlimited chakra xD
on Fri Mar 17, 2017 1:41 pm
The journey so far was comfortable, and despite the rumbles, Kurotsuchi was appreciative of what has happened so far. The Mizukage found himself locked in a bout of curiosity. A battle it was to not pay attention to his surroundings. He needed to pay attention indeed, for it has been a long since he's seen anything like this. Kurotsuchi showed himself to be respectful, even on this voyage. And quite frankly the man was certainly grateful to say the least. He is now far away from his home on earth. The Otsutsuki clan was most certainly prosperous on earth. Their influence have grown rapidly over the years. It took a great deal of hard work and determination. The cosmos was also on their side, which made it easier. However, humans can be quite strange in the ways that they go about things. At times, Kurotsuchi felt as if he was becoming too much like the humans. Then again, it could actually be the other way round. And humans were simply trying to catch up to the Otsutsuki. They had copied so much from these beings. The education was taken for granted. Ever since humans discovered Chakra, their arrogance grew more fierce. Their ego was often without cause, their actions arbitrary most of the times. The Mizukage has tried on multiple occasions to reason with such creatures. He did manage to reach a select few individuals. However, many have proven themselves to be so volatile, that he needed to tread on the side of caution. Pushing forth however, Kurotsuchi never buckled under pressure. The man have somehow developed a hard shell. It was out of necessity, which is why he remained the leader for this long. In any case though, it wasn't such a good idea to dwell upon the mysterious actions of humans. Who was he to judge? Kurotsuchi was anything but perfect, and he has never pretended or professed to be perfection. For if he was born perfect, then what fun could their possibly be in developing further? Now then, here they are, the ship constructed by Aquiles or Mithrandir if you will zipped through the clouds. The appearance of Aquiles also changed, it become modified as the man began to glow. Kurotsuchi's senses informed him that Aquiles was growing stronger. Thus bringing Kurotsuchi to understand Mithrandir's abilities just a little better now. This was an experiment of sorts, and Aquiles could be seen as the test subject. The Mizukage was showing himself to be a patient man. Many could even view his consciousness as child like at times. To truly understand him, Kurotsuchi did not lack in maturity. However, he found solace in and a sense of belonging when it comes to learning. Knowledge is power, and its a key ingredient when it comes to survival. As of now, no emotions could be sensed coming from Kurotsuchi. His face might show a smile and his body relaxed. But in all honesty, there was an endless void. One which he'd been pulled into so long ago, that trying to read him was a bad idea. Alas now. The Mizukage had begun observing the planet that they now arrived at. The ship reached three thousand meters above the plains of Thera. Sol was most amazing, but there was a sadness locked away within its beauty. Kurotsuchi figured more or less that his fellow Otsutsuki may be looking to leave the planet behind. Kurotsuchi began thinking back on Aquiles initial response to his words. The Mizukage agreed that this journey would leave many in awe and at the same time curious. However, awe and curious wasn't what the Mizukage was expecting. Changes will come soon.
Kurotsuchi watched as Aquiles assembled his minions. His Kaisers as they're known, all the wondering about their full potential. The Kaisers seemed sentient, intelligent, and most likely agents of Aquiles to the fullest extent. The Shinobi settled down, and stood quietly, and without flinching. The Mizukage made an attempt at gathering nature energy and oh glorious it was. Thera was most certainly different compared to earth. The nature energy surrounding the planet was far more filling. So much so that Kurotsuchi had adjust his current intake. The power, or the mere taste of it and awoken an insatiable appetite. The Mizukage however halted his gathering of nature energy. "Its fine, just because I'm not showing it, does not mean I don't share the same feelings". The Mizukage said allowed, his words directed at Aquiles. Kurotsuchi inhaled and exhaled slowly. Meanwhile veins bulged at the side of his head, showing that his Tenseigan had been activated. With Aquiles sending out his minions, Kurotsuchi wanted to take a look for himself. His eyes granting him far more insight than that of a normal pair of eyes. Into the distance he peered, carefully observing the environment outside. "Seems you were right to take the necessary precautions. This environment could prove to be a challenge indeed. And at the same time fun for sure. As for my will, well its simple really. I want us to go forth and seek out my people. And should they be hostile, then we will simply have to subdue them. I have no time to play games, and from the looks of things. This world is dying slowly but surely. It would be in their best interesting not to go against us. I do advice that you be careful as we traverse this place. In any case, do lead the way outside. We have no time to waste, sides, I do need to test myself a little and see just how much I can withstand. After all, if I am to convince them to follow me. I suppose I gotta show them my strength. Lets roll". He simply stated meanwhile standing with a smile on his face. Kurotsuchi could see that there was life in the area. And he also figured more or less that the inhabitants were very much aware of their presence. They may well be viewed as aliens, and could be greeted with hostility. However, most Otsutsuki will do well to recognize the ocular capabilities of the Tenseigan. Kurotsuchi had begun to wonder if most of his abilities would work in such an environment. Lead the way Aquiles, lead the way.
on Fri Mar 17, 2017 2:54 pm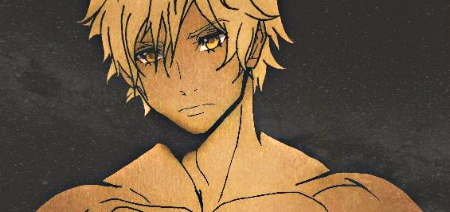 AND HE WAS GOD

Lead the way he did.
Aquila's and his battalion reached the gates of what looked to be an abandoned castle of Ootsutsuki origin roughly five thousand meters from where they had began. They floated just above ground and reached the place in under ten minutes. Now walking about, they came to the end of what they realized was a cliff. At the end of the cliff was a drop that looked to be over a thousand meters. Thankfully, in front of them was a long bridge made of stone bricks that led from their side of the cliff to the castle on the other side. The heavens above were lit with a dim read tent from the star Sol, and all else under the heavens felt as though it were black and dark. Aquiles and his Kaisers were the greatest lights that seemed to exist for some ways. They took to walking across the bridge slowly, with ten Kaisers before and behind the Mizukage and Aquiles. During this time, Aquiles tried to peer inside of the castle to examine the energies present, but strangely enough struggled. He saw various seals/symbols within the palace that gave off strange auras, but they were foreign to his vision. In addition, he was unable to detect any life forms that could be verified. Yet still did they proceed across the bridge, and underneath them nothing but freefall for thousands of meters below. It was shocking to consider that they were still in daytime given the amount of light afforded to them. It was dark enough to be considered night on Earth. However judging from what he knew about the atmosphere, Aquiles was keenly aware that they still had just over five hours before true nightfall would come; and with it, likely extreme temperatures. The finished walking across the bridge and reached a small circular area of about twenty meters in circumference. In front of them was one large door with glowing blue symbols everywhere upon it. It was clearly the language of an advanced species, and yet Aquiles noted that it was unlike anything he had seen in the Ootsutsuki compound. This language was foreign and unreadable by him, though he predicted that it was likely a variation of the same language spoken by the Vanir in the days of their civilization. Proceeding with caution, a Kaiser was sent forth to touch the door and see with what means it could be opened. When his energy-filled sword touched the door, the lights/symbols on the door instantly began to rearrange themselves. The symbols seemed to have been almost aggravated by a foreign energy coming into contact with them. There was a humming sound as the door seemed to be activating something within the platform. Aquiles was immediately on his guard. The door stopped humming and for a moment there was silence, but the door remained closed. Without warning however, there was a parade of bone spikes that came from above and onto the platform where Aquiles and Kurotsuchi were standing!
Aquiles remained calm, as he reacted from the very moment he saw the projectiles released from higher parts of the castle. Four Kaisers made a square around the Mizukage, their bodies shielding him entirely. At the same time, Aquiles drew high into the air and released an enormous flare of solar energy upwards which disintegrated all projectiles sent. The Kaisers remained ready for the next attack if there was to be one. It appeared that the door contained a defense mechanism which was designed to react a certain way to foreign energies.
Though Aquiles should have thought to simply ask the Mizukage in what way the door might be best opened, his anger got the best of him in this moment. Landing back down from his elevated position, Aquiles got in front of the door and grabbed it by the hinges. Squeezing the frame, he then ripped the ten foot door off of the wall and threw it off of the platform and down to an unending plummet. The door being removed, what was left in sight was nothing but pure darkness and a maze of walls. It was clear to him now, as he entered into the strange castle, that it was not a place in which people lived. Rather, it gave him the feeling of being more like a monastery or a library even. A place where secrets and things of private nature were kept. This was not somewhere that civilians those outside of the "know" were normally allowed to enter. That being as it may, Aquiles was in no mood for games or rituals; they had come to find survivors. As soon as he entered into the dark dungeon the entire front room was illuminated with his rich red energy. The Kaisers followed him in instantly and they began walking straight down a dark hallway which was about five meters in width. Walking down slowly, he scanned the walls and other areas to see any hidden corridors or areas in which he would best be led. Walking forward, they would reach a point at the end of the hallway where an enormous circular hole was presented. Strangely enough, it marked the end of the palace as far as they could see forward. The only place to go from here was down into the hole, or to look upward where there were various windows and paintings similar to a church up above. Seeing this dark hole, Aquiles sent down five Kaisers to float down and illuminate the area before he and the Mizukage would also take leave. He was given the ok by the Kaisers moments later, and motioned for the Mizuakge to follow as they would all descend into that dark hole and on to whatever was next. Floating down roughly one-hundred meters, they came down onto a dark stony ground in the middle of what looked to be a library. All of a sudden Aquiles got the feeling they had found something worth discovering. Hence, he immediately spread out his Kaisers to all corners of this library in search of any and all interesting things. There were books shelved on attachments to the circular room, and in addition there were actual book cases which held not only books but what appeared to be relics. Paintings and large symbols were emblazoned upon the walls up above and down below as they realized they were on the highest level of what descended to be a three-hundred meter library below them.

"Let us all search for what we can find Shodaime; and meet back up when we have something worthy of mention. My Kaisers will be on every level at all times."
IN A WORLD OF GRAY


_________________
[22:17:04] @ Noir Senju : I'm legitly loosing everything if I lose.
[12:09:51] Jianyu Uchiha : We gotta keep competitive in the arms race of which land has how many Sorikata.
[21:26:29] Rei Uchiha : If you have beef with someone, let them know & give far chance
[16:55:16] Psychosis : Maybe but people get PISSED when you take shit away from them based on a misunderstanding.
[16:55:23] Psychosis : A lot of being staff is knowing how to not piss people off.
[16:56:30] Psychosis : Have you met most RPers?
[20:12:14] Muroku Washiba : This is no WE is MEssiah
[14:26:12]Cecilia Terumi : Pretty much let the snake find the hole, and make it fit. >>
[19:59:06] Valentina Yuki : I am the senior director of playing with penises on this site.
19:23:14] @ Neah Senju : and i would edo tensei him but
[19:23:27] @ Neah Senju : then hed be a immortal being with unlimited chakra xD

Similar topics
---
Permissions in this forum:
You
cannot
reply to topics in this forum