on Sat Mar 11, 2017 12:56 pm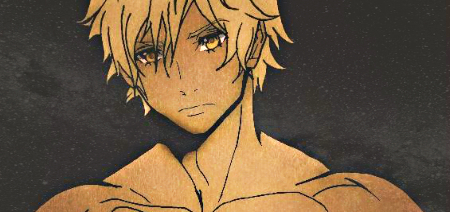 AND HE WAS GOD

Aquiles awoke, as he normally did, from forced hibernation around 3 am in the morning. The doctors had quickly figured out that the boy's body did not need rest as it was always actively regenerating and recycling itself. Thus, the rest was enforced in order to enable them to study him more thoroughly whilst his conscious mind was set at bay. It was an inside joke with the boy of course, since none of their strange needles and poisons could properly sedate him. Out of fear, he had always pretended to be asleep while they tried experiments, only to awake and find that whatever they had done to him had no effect. It was not until this recent year,him being twelve years of age, that he began to inspect more closely as to their intentions for him during these experiments. They were studying his midichlorians, his cells that is. They were attempting to understand his immortality and the function of his cells in creating what they had deemed "the body of a god". Aquiles was the codename given to him at birth, and it was what he was referred to by the nameless doctors in strange black lab coats. Six of them spoke with one another around his pod at this time, him floating upright in a tank of water sealed in glass. Looking outward, a feeling of emptiness hit him inside, as was often the case for him in recent times. The games and experiments had been entertainment for him as a child; but as time went on he grew restless of the repetitive and simple lifestyle that living a hundred meters beneath mounds of snow would afford a person. The doctors that monitored him treated him like was a machine; literally. As soon as their conversation ended, they left the boy by exiting through a small door roughly five meters away from him in the corner to the left of his pod. All he ever saw of the outside world was what light came into the dark laboratory when that single door was opened for a brief moment. Afterwards, complete darkness and silence filled the room and Aquiles was left glowing in a tank of white liquid.
He had few memories of the outside world, having perfect recall since the age of his "birth" and yet remembering little time in which he was anywhere but where he was now. Many of the chains placed upon Aquiles were mental. There was no cage in the world that could truly hold the young deity, neither was there any army known to man that could subdue him. He was here, sitting alone in this tank with no purpose because he was commanded to be by those who had been psychologically conditioning him to believe that he was nothing more than a created tool to be used and put down at a whim by those in whom he was entrusted by the Mizukage. That withstanding, there began within him a strong reaction against this notion from an unfamiliar internal cavity within his soul. Something that cried out to him, yet in words he could not yet discern. Still more, he could not help but feel fearless. He was not truly aware of how powerful he was, but he knew that he was not average. He knew, after all the experiments, that he could not really be hurt, harmed, or killed. Thus, who was to stop him from doing whatever he pleased? Besides, his mind had synchronized a schedule for when he would be alone and when the time for experimentation would pick up once more. He knew that he would have a window of about four hours before the doctors returned. In that time, he thought, perhaps it was time for him to voyage beyond the pod?
Aquiles swam forward near the glass and shattered it with a small touch, water and glass spilling everywhere on the dark floor. The room was kept entirely dark, and there was no light in it save for the golden glow of the naked boy standing upon the floor, and the white eyes that he bore. Seeing perfectly within the room, however, he headed towards the door in the far left corner. He ripped the door of its hinges and proceeded to float outwards into the open and icy air. Seeing nothing but ice in front of him, his Galagan picked up that just behind the lab entrance was a small forest in which could be found greater warmth; which meant plant life. He sped that way, roughly two hundred meters away, and came upon the edge of an icy forest that was as silent as the lab had been. Glowing and ambient, Aquiles walked about naked and without shame. One who saw such a young fellow in this temperature without clothes would think something was wrong, yet he walked calmly through the sharp breeze with so much as a breath. There was an aura of rainbow light that extended from him for about three meters all around, which was normal for him. He was an unusually beautiful and handsome, even as a child; and as he walked about through the forest, it was like watching a dream move about in real life. Majestic and angelic did he move throughout, silent and unobtrusive. His galagan picked up on a life form that clearly had enough life force to be Ootsutsuki and yet he found the DNA code a bit… different. Walking towards the energy signature he could also see the emotions emitting from the boy, whose cellular makeup said that he was about fifteen years of age. He saw the boy standing near a tree, seeming to stare upwards into the sky. The lack of any positive emotion that Aquiles could see made it clear that the boy was in a mood of the miserable sort. He walked slowly to the boy, being tentative as it dawned on him that he was very… different than the boy, and that could mean a negative and even frightening reaction. Saying nothing, he came upon the boy from behind, standing about five meters away and stood there radiating his light upon the boy in hopes of being noticed; unsure of how to speak or what to say.
IN A WORLD OF GRAY


_________________
[22:17:04] @ Noir Senju : I'm legitly loosing everything if I lose.
[12:09:51] Jianyu Uchiha : We gotta keep competitive in the arms race of which land has how many Sorikata.
[21:26:29] Rei Uchiha : If you have beef with someone, let them know & give far chance
[16:55:16] Psychosis : Maybe but people get PISSED when you take shit away from them based on a misunderstanding.
[16:55:23] Psychosis : A lot of being staff is knowing how to not piss people off.
[16:56:30] Psychosis : Have you met most RPers?
[20:12:14] Muroku Washiba : This is no WE is MEssiah
[14:26:12]Cecilia Terumi : Pretty much let the snake find the hole, and make it fit. >>
[19:59:06] Valentina Yuki : I am the senior director of playing with penises on this site.
19:23:14] @ Neah Senju : and i would edo tensei him but
[19:23:27] @ Neah Senju : then hed be a immortal being with unlimited chakra xD
on Sat Mar 11, 2017 8:27 pm
TO ESCAPE THE PAIN

The day had been progressing as it normally had for Orion. He had gotten up, took a shower and applied a fresh new design to his chest. Todays were swirls and sharp points, like vines and the thorns that sometimes come with them. The designs he did were often inspired by plant life, just like his clan's dances. He loved the symbolism of plants and their meanings, so why not use them as inspiration? As to why he painted his chest and arms, he hated seeing the blank expanse of pure white. It drove him mad, seeing the pretty almost perfection of his body. That was because everyone else saw little to nothing of what was truly there, only he was able to pick out those silvery paper thin scars that traced his body. He wanted to hide them. He wasn't ashamed of them, nor did he wish they were never placed there. He wants to hide them so others can't see them. They were his secrets, the little pieces of evidence that told of his imperfections. Ootsutsuki didn't usually scar, but he did. Then again, he did a lot of things Ootsutsuki do not usually do. Once he had finished mulling over his artwork, he had went to eat a bit before going to train. His father wasn't home, as expected, though their maid had a simple breakfast laid out for him. It seemed like everyone in the clan had maids, but that was to be expected of the imperial Ootsutsuki, no? They were the best of the best, above even the Senju and the Uchiha. No one came close to their excellence, so they only deserved the best. Some Ootsutsuki were treated as lesser, which Orion knew from firsthand experience. Thanks to his father, he was living comfortably and wanted for nothing other than the attention of his only living parent. His father was never around, as he had to go on one business trip or another, almost as if he were purposely avoiding Orion. It had been as such since his mother's passing, so Orion didn't truly pay attention anymore. He lived and he moved on.
Once he was done with his breakfast, Orion began his walk to the clan's training grounds. He had a reputation as one of the few in the clan cursed to possess one of the two Kekkei Genkai and not the other. It was often seen as a bad omen, one of misfortune for the person or disgrace for the clan. As such, he drew a mixture of looks from his kin as he walked by. Some gazes held pity, while others held contempt. Those who held higher stations ignored him completely and there were very few below him, so he couldn't truly tell their reactions towards him. He didn't care, however. He had taken his mother's words to heart and hardened himself, generating a powerful armor that enabled him to block out the negativity from others and continue on his journey of strength. Once he reached the training yard, he began his exercises. Pushups, followed by sit-ups, followed by crunches. Then rinse and repeat. Once he had done this a few times, he rose and began practicing his footwork and hand-to-hand skills with a nearby dummy. This was when his troubles started. Another member of the clan around his age approached him, a group of others at his back like a pack of wolves with their Alpha. He threw insults that Orion was easily able to shake off and ignore. However, they kept coming, and with them assumptions that the other could best Orion in combat. That struck at his pride a bit and he agreed to spar the other. They began the dance of the Ootsutsuki, using all the powers granted to them by their DNA to its fullest potential. Orion was able to keep up and even surpass the other when he began using the Gentle Fist alongside his Byakugan, as well as the Shikotsumyaku. Things went downhill when the other male smiled and gave a whistle, his wolf pack moving in and beginning their own assaults on Orion. They were five and he was one, so they odds were not in his favor to say the least. He was able to keep them at bay for a rather long stretch of time, but didn't have space to launch attacks himself. Then the insults started again. Before he was in a neutral mental state, able to let the words wash over him and trickle off, however now that he was under extreme stress they sank in and corrupted his core until he burst outwards in pure and unadulterated anger. His bones took on a deadly property and before he knew it the first male was nothing but a pile of ash before him, the others landing cuts upon his body before stopping what they were doing to look at what Orion had caused. The anger faded quickly as he realized what he had done and he did the first things his instinct told him to: run.
So now he was here, in this clearing. He had been bleeding profusely from a wound in his side, quickly loosing blood. For fear of his life, he did one thing that he had promised himself he would only do when he needed either a lifesaving maneuver or a drastic boost in strength. He quickly stopped by his home and took the forbidden scroll he hid there before making his way to the clearing. Once there, he was nigh on delirious, though still coherent enough to perform the dark ritual. Soon enough, black threads were sewing his wounds shut and he was in good health again. That was hours ago, and he had been in the same spot since, sitting with the scroll before him and just looking around him. He gazed up in the sky and wondered about a great many things. Would he be punished severely? It was self-defense, after all. If he was punished, it would possibly only be a slap on the wrist. Worst case scenario, he would be put to death and he would be free of the torment he was put through every day. He didn't want to think about that, so he looked up into the sky at the stars. He wondered what kind of power they held, what they could do if one was able to harness them. Then he thought about the moon and the power his clan said was held there. The moon itself was supposed to be the tomb of one of the clan's progenitors, Kaguya Ootsutsuki, though Orion couldn't truly believe it. Some power may be sealed there, but could a monster with the power that warranted an entire celestial body to seal it truly exist? He shook his head and just let his thoughts wander. He rolled up the scroll and tucked it away before standing, deciding that staying in the middle of the clearing was not the best choice. He could easily be spotted and targeted, whether by other shinobi or clan head-hunters. He didn't want to take that chance. He moved to the edge of the clearing instead, so he could still have clear view of the sky above. He rested his hand upon the tree and felt the new threads wriggling beneath his flesh. The transformation had been excruciatingly painful, but blissfully quick. He found that he didn't regret it as much as he thought it would. As he was thinking about the effects of this jutsu and the power it could hold, a light illuminated the clearing from behind him. It was soft, yet all-encompassing and he couldn't help but turn to see what was making it. When he saw what was making the light, the person that was making the light, all breath left him in a quick exhale. The other could only be described as radiant, like a star made into a man. Otherworldly beauty given shape and form and walking amongst those who truly didn't deserve to look upon it. Orion found himself staring and had to keep his eyes focused on the other's face, lest they roam a bit too low. After a few long moments, he recovered his ability to speak "Who…Who are you?" Once those first words were said, more came rushing out in a wave "What are you? You're like no one, nothing I've ever seen before. You're…You're like a star given life. You even emit your own light…" As he was talking, Orion found himself moving steadily closer to the other male. Once he was close enough, he reached up a hand to touch the other's chest and realized that that might've been seen as an act of aggression, and he did not want to give the wrong impression to the other boy. Not when he wanted to learn about him. He pulled his hand away and took a few steps back, just looking "You're a bit like what they tell us angels are like. It is…beautiful. In a strange way…"
HE EMBRACED THE INSANE

on Sun Mar 12, 2017 8:55 am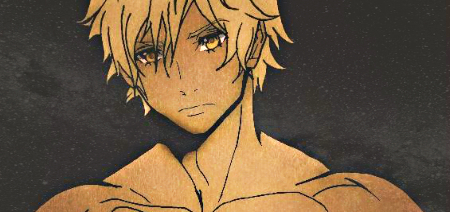 AND HE WAS GOD

Aquiles saw the frail young boy turn, and the look in Orion's eyes was something that Aquiles had not quite prepared himself for. The boy looked as though he had come into contact with something out of a dream, almost as though he doubted rather or not Aquiles were real or not. The young alien had spent his life in a laboratory filled with people who did nothing but study and marvel at everything that he was. And yet this was his first time interacting with someone in whose eyes he could see genuine interest. He did not look at Aquiles like something that he wanted to use in order to gain something; but rather like a man looks at a waterfall or a sunset; with humble admiration. There was a quiet and unemotional expression upon the face of Aquiles, who had a strange sense and look of calm that one did not normally find on the face of a twelve year old. He was neither frightened nor moved to violence when the young Ootsutsuki put out his hand to touch him. The hand never did, thankfully, but still more did the white glowing eyes of Aquiles continue to look upon the boy that was only two feet in front of him. The Galagan gave one the eyes of a god; quite literally. If one were to envision the lightning-powered eyes of Zeus, burning with radiant energy; that is what the Galagan would look like. Having no irises, and seeming to be comprised of pure radiant light, one could not even hope to conceive of exactly what the wielder of such an odd dojutsu could possibly be seeing. The answer to that question, which was likely running through the mind of Orion as he looked upon Aquiles with astonishment - was everything. The Galagan could see everything. The lack of communication up to this point had not been due to incompetence on the part of Aquiles, but rather analyzation. The ability of his mind to process great amounts of information and high speeds was truly unusual, and yet at the same time he had taken a bit more thorough look at Orion, seeing within him something that he found rather unusual.
In the lab many animals were brought to Aquiles for inspection; testing the limits of his vision and what exactly his Galagan could see. Life expectancy, dominant hormones, muscle mass percentage, and emotional states could be instantly discerned much to the pleasure of various hunters, farmers and scientists to whom his abilities were privately used in order to produce profit. He had not been, however, allowed to use his eyes on Ootsutsuki; or at least say what he knew. For the most frightening thing about the Galgan was its ability to read the heart. More than any other dojutsu in the known galaxy, the Galgan could interpret the soul. It did so in various colors and symbols to which only Aquiles could properly translate. Nevertheless, he looked upon the boy from short distance, standing eye-level, and with his gaze came a look of unusual certainty.
He opened his mouth to speak; but was soon cut off as the sound of ruffling from behind Orion was heard by both boys. His Galgan had seen these in the distance, but he had not paid much attention as he was rather apathetic to their presence. Behind Orion, in almost an instant, stood five young Ootsutsuki boys roughly around the age of eighteen, whose souls emitted a bright red color; which meant hatred.
"You're gonna die freak… you're… you're… you're GONNA DIE!"
The Ootsutsuki who stood in the middle of the five was tall and lanky, easily 6'6. Clearly enraged with either Orion or Aquiles for some reason, and had the Dance of the Larch (or whatever dance has bones piercing throughout your skin) activated; he had come for blood. The other four activated the same and began to form a circle by walking away from the leader in both directions until Aquiles and Orion were surrounded on all sides by those vicious vagabonds. Aquiles had only ever shed the blood of animals via training; completely unallowed to find out what it felt like to put his skills to the test against real Ootstutsuki. Thus, he could not help but see them as nothing more than that; animals. He had a certain innocence about him, in which he was unsure of exactly how his power compared to that of othres; and yet his confidence seemed to be so deeply rooted that the hostility of the situation did not move his pulse (not that he has one) even a half-beat faster. Aquiles did not move, but instead kept looking forward as the boys closed in on them slowly. It would appear they had some measure of caution and it appeared from the horrible curses they spat that they knew the boy standing next to Aquiles; Orion was his name. The implication was that Orion had done something to the younger brother of the tall Ootsutsuki, and he had come back for revenge. No matter the case, they had of course run up against the wrong person in which to make such moves. Aquiles and Orion stood facing forward, with the young men around them about five meters from their position, crouched and ready to pounce. It seemed as though they were waiting for Orion to show them something first. Aquiles, unaquainted with proper battle decency, decided instead to take matters into his own hands. He waited until he saw a great deal of momentum created within the body of the leader, recognizing that it was he who would strike first and lead the rest. Once the lanky and tall Ootsutsuki took a massive and explosive step in which his body temporarily left the ground… the battle ended. Roots from under the ground emerged and impaled all five boys instantaneously. The roots were so massive and vicious in their pursuit that it appeared as though the boys were essentially vaporized upon contact. The loud tearing of the ground up from these roots that extended ninety meters into the air and were forty meters in girth was terrifying; and there was only one root used for each. Aquiles stood motionless as the remains of the boys remained plastered all across the forest in what felt like only a moment after the lanky man had spat his last insult and taken off for the kill.
The Morning Star had not moved, and continued to look upon Orion with calmness and poise.
He had at first decided against revelaing anything of himself; but upon hearing the boys name he thought again. Orion was a name that had striking familiarity to Aquiles, for reasons he did not know. His entire life he had felt like someone waking up from amnesia. Like there were pieces that his subconscious was constantly giving him of things that he could not for the life of him understand. He had gained a sense of purpose, however, by these things. Feeling as though if he could simply find some of those pieces and put them together; he could see the puzzle of his soul in its fullness. Perhaps that is what had moved him to leave the pod and comme outside; perhaps that is what had led him to this boy.
"I am Aquiles."
IN A WORLD OF GRAY


_________________
[22:17:04] @ Noir Senju : I'm legitly loosing everything if I lose.
[12:09:51] Jianyu Uchiha : We gotta keep competitive in the arms race of which land has how many Sorikata.
[21:26:29] Rei Uchiha : If you have beef with someone, let them know & give far chance
[16:55:16] Psychosis : Maybe but people get PISSED when you take shit away from them based on a misunderstanding.
[16:55:23] Psychosis : A lot of being staff is knowing how to not piss people off.
[16:56:30] Psychosis : Have you met most RPers?
[20:12:14] Muroku Washiba : This is no WE is MEssiah
[14:26:12]Cecilia Terumi : Pretty much let the snake find the hole, and make it fit. >>
[19:59:06] Valentina Yuki : I am the senior director of playing with penises on this site.
19:23:14] @ Neah Senju : and i would edo tensei him but
[19:23:27] @ Neah Senju : then hed be a immortal being with unlimited chakra xD
on Sun Mar 12, 2017 3:37 pm
TO ESCAPE THE PAIN

Fear was a substance that Orion hated the taste of. It was much like ash in his mouth and rage bubbled up in him whenever the emotion reared its ugly head. So when he heard the five boys from before move into the clearing, he was immediately furious. He was scared that they might drive the bright boy away and rid him of the perfection that was the other's presence. He wanted so fiercely to just kill them all and get it over with, yet he didn't want to be seen as a savage. Not to someone who was so obviously flawless, so he just waited. They spat insults, but he kept his calm. They entered their respective stances and circled around him and the other like a pack of rabid wolves ready for blood. Orion himself was put on edge, charcoal black tendrils writhing beneath his skin in preparation for an attack. He was waiting for one of them to make a move, any move. That would justify him killing them all. That would enable him to reduce them to nothing in front of the other's eyes and not feel like he was being an affront to the peace and serenity that blanketed the area before. Orion saw the ring leader, the brother of the one he had killed, begin to move. He prepared for an attack, one that would be sure to kill him, but he never got a chance to launch it. Roots larger than even the trees around them burst forth from the ground and impaled all five, turning them into nothing but unimpressive puddles of blood and pieces of flesh scattered about the place. Their deaths did not register for a few long moments. Orion simply followed the roots upwards with his gaze as they grew, a confused look on his face. He snapped himself out of the daze and looked around them quickly, trying to determine who had acted in defense of himself and the male beside him. Upon finding no one, Orion slowly turned around and looked at the other with renewed reverence, as well as a slight bit of fear. It was not a negative form of fear, no he was not afraid that the radiant being standing before him would harm him. No, it was a healthy kind of fear. That small tinge of fear one felt when looking upon their king or, more accurately, their god. The fear one felt when they knew that falling out of someone's favor could be worse than death itself. It was in this moment, with Orion looking at the other deeply, that the young boy noticed the other's eyes let out their own light. It wasn't the glow of his body, like a soft star standing in front of him. They were like miniature suns within the other's eye sockets, shining a light that seemed to pierce Orion to his very soul. In that moment, he felt more vulnerable than he ever had. He felt as though his every essence was on display for the other to see, that he could see his past and the ails of his present, that he could view his emotions as plain as day. He felt like an open book that the male was perusing with slight interest. He found himself filled with the sudden urge to be a book that the other wanted to read and reread over and over again, he strived to be close to one as one would strive to be close to their god. He wanted to be the one holding this person's interest above all else and yet he also didn't want that. He didn't want his negative traits and insecurities on display. He didn't want the vulnerability that the gaze forced upon him and he would give his life in order to make those eyes close and never look upon him again. He was conflicted between these feelings and he found that he had two choices: he could stay and bask in this holy light until the day where he would pass on into the Pure Lands or he could run and never stop, until the vulnerable feeling was gone and he no longer saw the light in those eyes.
He found that the decision was not very hard to make. He would stay. He would become this male's disciple, stay by his side and take up his cause, whatever it may be. It was quite possible that he could find the same power within himself that the other had, and if not he could discover something of his own. He just wanted to stay, no matter what he would have to go through in order to remain. Once the other spoke his name, Orion let the voice wash over him. It was like sunlight, washing over him and warming his flesh with its tone. Orion wanted the other to talk more, as he knew he would hear no other voice like it. No other's voice will be the same and all other sounds would pale in comparison to Aquiles' voice. It took him a moment to realize that he actually needed to speak, that holding a conversation may be essential to keeping the other's attentions, even if it was only for a short while "I'm Orion. Though you probably heard that from them… Your power. It's like you're… like you're a god, almost…" When he spoke, his voice was higher than it usually was, and his tone was much akin to that of a school girl talking to her crush. That made his cheeks color a bit, though that only reinforced the image in his head. He cleared his throat quietly and tried to center himself "How did you do that? I've only ever heard stories about Senju doing things like that, and even then it was never on such a large scale. Plus I haven't seen it in person…" He looked to the roots once more before his eyes found the other's face again "You must be a god. You glow, your eyes are like stars when seen up close and you are able to do things like that." He motioned to the roots and the eviscerated bodies that were nothing but splatters all around them "Plus you're… perfect. I can't pick out anything wrong with you. Granted I've been trying to keep my eyes above the waist, so I can attest to your…. Wait that might make this whole situation awkward. I'll stop talking and let you respond." He bit his lip. Hard. He had a tendency to babble, but usually it could be kept under control. It seemed like everything went out of the window in the face of someone so….perfect. Orion just had to remind himself not to talk so much. And not to look to low. There were quite a few things he needed to remind himself about actually. He looked at the other's face and prayed for him to talk so that his thoughts could be drawn to the other's words and away from his awkwardness.
HE EMBRACED THE INSANE

on Sun Mar 12, 2017 6:06 pm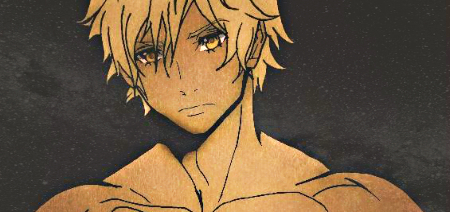 AND HE WAS GOD

Aquiles did not so much as sneeze as the remains from the men dripped down the long tentacle-like roots that slowly retreated into the ground as Orion turned around. He could see within Orion's eyes a certain type of fear and uncertainty. It was a similar look he often got when looking into anyone's eyes, frankly. He was so oblivious to the divinity of his own nature at this time that he was unsure of how exactly he made people feel. He knew he was... different; but he thought that was merely because he was designed to be so. It had not, at this point in his life, crossed his mind that he was not only different; but that he was better.
He did not merely look different; he looked better than other life forms. It was the first time in all of Mithrandir's lives that he had been born and held fast to this kind of forgetful humility for so long. Typically the more radical parts of his nature had already shown up by this time. In due time, however, Aquiles surely would bring forth those more lethal traits which in all stories and all lives had brought all worlds to their knees in a matter of moments.
It was so interesting for him to look upon the face of an Ootsutsuki and read their body language in order to determine and discern a motive and a character make-up. Everything about Orion told Aquiles that he tried to keep deep within himself who he truly was; only willing to reveal it at times of compulsion or by force of habit. Being so transcendent in so many ways, Aquiles was able to look at people like him in a very unique way. He did not need to put his guard up, nor be weary of the fact that he stood in front of a murderer and likely a sociopath. For none of that mattered to a god. Things such as death were contemplations for temporary creatures. In the heart of Aquiles was a desire for conquering and creating. He saw a look in Orion's eyes that showed him a desire to be reborn; a desire to be re-created. Evolution was a primal instinct in a select few of some species, perhaps this boy was one of them. He listened intently, without unnecessary motion or reaction as Orion spat out nervously. He let him finish, there was no need not to. Aquiles was not sure what a "god" was, as the majority of ways in which he'd learned to communicate were non-verbal. Communicating with words seemed to him so… primitive. A latent quality that had stayed within him even after the rebirth. Higher beings in other worlds rarely spoke as communication was made in much more efficient and advanced ways. Nevertheless, he was on Earth and for now the Earth was all he knew.
He let out a small smile when Orion introduced himself, showing bright teeth that seemed to have unusual symmetry. They were more milky crystal than they were teeth; clearly not made of bone though they appeared just like it. The roots had retreated fully into the ground now, and only the two boys stood about two meters apart facing one another. Clearly showing an innocent favour towards Orion, he began then to speak.
"I have lived all my life in a prison Orion... Far beneath the ice and all civilization, away from anyone who could ever love or hate me. I had come to believe that I was designed to live in confinement for all my days. Yet I now know that my destiny lies beyond the cage. I have discovered, as your eyes now witness to me, that there are some prisons in this world that are not physical. The prison of hatred as thicker bars than that of steel. Indeed there are some prisons that cannot be walked out of nor broken through with force.
I see that you are one who carries a prison with you wherever you go."
Aquiles spoke innocently, but without a hint of suggestion. He spoke the exact truth, and felt no need to ask any higher wisdom of its inerrancy. To him, the heart was a picture book that anyone with eyes could read. Admittedly, he did not feel what others felt, nor did he know what it felt to be… vulnerable; but yet he spoke with a sincerity and conviction that could only be received as a mercy. The compassion in his tone was overwhelming, and it could be understood from the very first word that he spoke that the sounds coming from him were now produced by lungs, trachea, nor any of the other typical organs used to produce sound in mammals. His voice was an instrument. One felt as though they were being sung to when he spoke, and goodness… what a melody he played.
"I shall return to my prison soon…"
he said softly.
"Yet my eyes will see a day when we shall both shall leave our prisons, and taste of a freedom for which we both long."
Aquiles was unsure of how to end a conversation, he only knew that he had spoken what his soul had commanded him. After speaking, he began to float up above Orion, his penetrating and unblinking gaze continually staying upon Orion as he floated above into the night sky.
[EXIT]
IN A WORLD OF GRAY


_________________
[22:17:04] @ Noir Senju : I'm legitly loosing everything if I lose.
[12:09:51] Jianyu Uchiha : We gotta keep competitive in the arms race of which land has how many Sorikata.
[21:26:29] Rei Uchiha : If you have beef with someone, let them know & give far chance
[16:55:16] Psychosis : Maybe but people get PISSED when you take shit away from them based on a misunderstanding.
[16:55:23] Psychosis : A lot of being staff is knowing how to not piss people off.
[16:56:30] Psychosis : Have you met most RPers?
[20:12:14] Muroku Washiba : This is no WE is MEssiah
[14:26:12]Cecilia Terumi : Pretty much let the snake find the hole, and make it fit. >>
[19:59:06] Valentina Yuki : I am the senior director of playing with penises on this site.
19:23:14] @ Neah Senju : and i would edo tensei him but
[19:23:27] @ Neah Senju : then hed be a immortal being with unlimited chakra xD
on Sun Mar 12, 2017 8:28 pm
TO ESCAPE THE PAIN

Orion felt like his heart stopped the moment he saw the other smile. This was unnatural, this level of beauty, this level of power, this level of pure perfection in one being. Godliness was the only term that could describe it, as he could only be something ascended from the highest heavens or the brightest of myths. There was no other explanation, no other logical reason for him to exist than to rule over all those who inhabited this Earth as their god. Or he could possibly be something darker from the same myths. An evil wrapped in beauty and veiled in light that walked among sheep like a ravenous beast, ready to tear all to shreds and sink the world into unending darkness. Yet again he found himself with two choices: he could run for fear of following a monster or stay and hope he was following a prophet. It took him a bit longer to come to a decision, the other speaking before he got a chance to decide. At the other's words, his heart had made the decision that his brain had failed to come to. He would stay. The words, those simple collections of vocalizations and syllables wrenched something so deep inside of Orion that he was scarcely aware of its existence. It excited little fear, but solidified his resolve even more. He would work alongside Aquiles in order to break their prisons, and to destroy the prisons of others. He found that he longed for a world that allowed all to be free, and it was possibly because he felt as though he were chained by the scrutiny and prejudice of his clan. He wanted freedom, and he would give others the same. Alongside his new obsession, the radiant male who stood all too close and yet was oh so far away. The devotion within him was flowering fiercely, and the other's presence was doing nothing but helping it grow all the more.
His heart hurt when he heard the other had to leave all too soon. He nodded and looked up to watch the other go, his eyes becoming resolute. Orion knew that the other could possibly possess enhanced senses, though he still whispered an oath to himself "We will meet again. I will not rest until I am by your side and helping you break down the prisons that bind those within our world. I will do my best to tear down my own prison so that it does not impede your goal of freedom. No matter where this world takes me, no matter how close I come to death, I vow that I will not pass on or give up until I see this world you speak of. A world without prisons. A world where we are free to be who we are and do as we please…" He trailed off, nodding minutely to himself. He turned on his heel and then began running through the forest, headed back towards the clan compound. As he went, he thought to himself
'I vow to devote myself to you. Your cause is my cause, your hopes my hopes and your dreams my dreams. I will have no other mission but the realization of your ideals and the only time I will allow myself to truly give up, to accept the inevitable and give into death, is when your dreams and ideals are realized. I shall protect you with my life once we join once more, and until then I will seek you. You are my king, my god, and I am your subject. My purpose will be yours to decide when we are through. For now, I will get stronger. I will amass power in order to become a great warrior, a knight worthy of a king such as yourself…'
He let out a small chuckle
'It's funny. The only person I have felt this much devotion towards was my mother. I took care of her during her bouts, I read to her. I loved her fiercely. It is quite a shock that I am feeling something so strong once more. At least to me it is. Does this mean I already feel as strongly about you as I did about her? Does this mean… No. It can't mean that. It is the devotion of a warrior to his king and nothing else. I will do my best to grow to be worthy of your majesty. And I look forward to when we will meet again. Aquiles.'
A smile grew on his face and he made his way back to the compound.
Orion was punished for the deaths of the first boy, as there had been witnesses for that, but as far as anyone else knew the others had simply disappeared without a trace. The fact that he knew what had truly transpired and they didn't brought him a sort of maniacal joy. He was able to bear the punishment they dished out with ease, as it was only a simple lashing. The gashes upon his back from it healed and the blood was easily washed away. He supposed the elders saw no point in killing a capable warrior for the death of an irresponsible twit, especially when it was in self-defense. Orion trained harder and harder from that day forth in preparation of meeting Aquiles once more. He didn't know when he would, but when he did, he would be ready to stand beside his king.
[EXIT]
HE EMBRACED THE INSANE

---
Permissions in this forum:
You
cannot
reply to topics in this forum