on Tue Jan 10, 2017 3:36 pm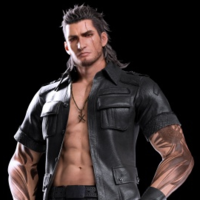 Name:
Kariudo Liong
Nickname:
The Big Guy
Age:
25
Gender:
Male
Height:
6'0"/3m
Weight:
200 Lbs./90.72 Kg
Appearance:
Often referred to as "the big guy" Kariudo wears all black attire with no undershirt often garnering the attention of both male and females in his traveling.  His exposed chest shows scars that he has received while training as a child and into his teen years.  His pants are long and also black and made of silk so that he can move silently if need be.  Instead of sandals or normal boots, Kariudo tends to dress in heavy combat boots with no tread so that he leaves no tracks, but so he can also have shielding from the elements of the world.  His face is always exposed as he proudly shows off a scar he received while traveling not so long ago.  The scar covers the left side of his face with a thin line from forehead down to his jawline.  His hair is long in length, shaggy but often brushed back if he can help it, and black.  His keeps his facial hair at a constant stubble length so he often receives questions on if he needs to shave.  The necklace he wears is a constant reminder of where he came from.  Two talons of an eagle, six fangs from snakes, and the skull of a small turtle.  The necklace was something he made as a child that he cherishes more than the clothes on his body.  
His body is seen as toned and hard, but underneath he is actually a kind soul that travels the world looking to help.
Land:
Galahad
Character Rank:
D
Clan:
Clanless
Element:
N/A
Personality:
Kariudo has a creative personality with a focus on possibilities and an infectious curiosity for new ideas, people and activities.  He is often seen as energetic, warm, and passionate.  He is always looking to help those in need even when he cannot benefit from the activity.  Kariudo is a quick and expressive communicator; utilizing his silver tongue, humor, and wit to create engaging stories to entertain those around him or to distract and gather information.  His posses a strong artistic side and is often drawn to art because of its ability to express inventive ideas and create a deeper understanding of human experience.
His personality however just like everyone else, carries it's own flaws.  Kariudo often finds himself in the care of a barkeep on his travels, choosing to travel in the night and sleep and drink during the day.  He tries to become the center of attention spreading rumors and weaving stories everywhere he treads.  On top of this he a known womanizer that tries to find and share a bed with a beautiful women while traveling, often causing fights with locals as he may hit on the wrong woman.  He can also sometimes be too easy-going which causes him to miss out on opportunities to earn a living wage just so he can sleep or drink.  
He dislikes those that waste good alcohol, abuse women, the fact that he often cannot find sleep, and taking life too seriously.  However that will never stop him from coming to the aid of someone if they truly need it.
He likes good liquor, women, watching the sun set over the horizon, and being the center of attention.
Character History:
Birth
Kariudo was born to Isshin Liong and Kairi Liong within the Kingdom of Galahad.  The family was the most secluded of the Liong family, however they worked hard to make sure that Kariudo had whatever he wanted.  Isshin and Kairi were both farmers that made their earning based on the sale of exotic fruits grown with volcanic ash.  Their effort was rewarded as Kariudo grew quick, stimulated by his family's constant overwatch.
Childhood
Kariudo soon took to martial arts and fine arts as a child.  His affinity was strong enough that he excelled in classes above his own, he soon found a way to link them both as a street performer to earn more for the family as his parents believed him to be in class.  He proved to be skilled in the art of deception as he was able to keep both his academic studies and family in the dark about his secret life.  The money he earned was always spent as he donated it and paid to have it delivered to his family in various ways.  Soon making a name for the family among the vendors and performers in the village he was raised in.
Teen Years
Kariudo noticed the older that he got, his tastes began to change as the people began to pay in goods other than money.  He received liquor, free lessons in martial arts, and even free trips to other villages for days on end as he told his family that he was training for graduation from the village academy.  However on one trip there was a tragedy in his family and his mother died due to a heart attack while working.  When he arrived back in town after three days of performing to be greeted home by his grief stricken father and he had missed his mother's funeral.  This broke Kariudo in a way that still causes him to have issues sleeping to this day.  He uses his quick wit and fake persona of always being happy as a way to keep the public from knowing his inner turmoil.
Adult Life
Kariudo took over the farm after his father became to heartbroken to actually get out and work.  He graduated the academy top of his class, and he was tame.  Always keeping to himself, but keeping appearances that everything was alright at home.  It was about the time he turned twenty one that his father finally passed.  Kariudo buried his father next to his wife...Kariudo's mother.  He made sure the town did not know just to keep it all in, his feelings were like a pot that had been left on the stove with boiling water for too long.  News came for the family on Kariudo's twenty second birthday.  It seems that a member of the family, Akuchi, was looking for any remaining family members that were willing and able to help him on some sort of "journey".  Kariudo mulled this over for weeks before making a decision.  He packed a single bag with clothes and survival gear he would need, it was time he hit the road.
on Tue Jan 10, 2017 4:02 pm
on Tue Jan 10, 2017 4:19 pm
5th Tailed Jinchuriki

Claim?
on Tue Jan 10, 2017 4:49 pm
Sure I dont think anyone else has him
on Sat Jan 14, 2017 3:43 am
Amendem, 5 tails is taken aparently
---
Permissions in this forum:
You
cannot
reply to topics in this forum