on Tue Nov 01, 2016 9:15 am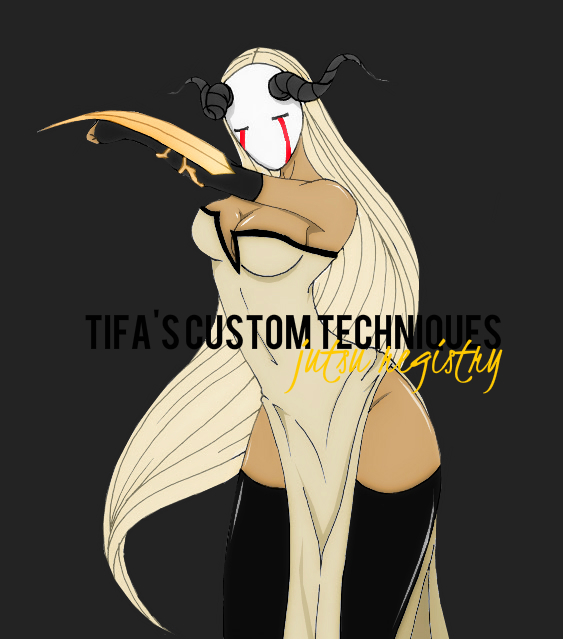 Name:
金結晶王室の腕 | GŌRUDOKURISUTARU ŌSHITSU NO BUKI | GOLD CRYSTAL: ROYAL ARMS
Rank:
S [ LIMITED ]
Cost:
72
Upkeep:
60 CHAKRA
Type:
NINJUTSU | OFFENSIVE
Element:
SHŌTON
Range:
0 - 300 METERS
Speed:
600
Power:
550 [ DETERMINED BY RANGE ]
Handseals:
DRAGON—RAM—BIRD—HARE
Description:
Offensive | To summon the offensive behalf of Gold Crystal: Royal Arms the Shōton user must first envelope the entirity of their being with fifty crystalline particles; these particles appear to look like crystallized rose petals*. Each summoned crystal will then bind to one another as they flutter around their wielder, immediately condensing into elongated cutlasses that replicate the appearance of Amaterasu's Rapier: Midnight Sun. As the crystallized weaponry surrounds the Shōton user in midair, she [ Tifa ] can either wield any desired rapier by hand or psychokinesis; this technique, as well as Gold Crystal Queen's Guard are the only two techniques that can be maneuvered by Tifa through psychokinesis. Before commanding to assault, the sabers idly float in midair; they will only proceed forth toward the victim via cerebral communication. This technique can, however, be ceased in mid-charge (if desired). If ordered to harm, all fifty rapiers will soar toward the victim at the rapidity of the given speed stat, in controlled unison, and impale the opponent's body.

| *Each rapier summoned has a cost of two [ 2 ] chakra points, a total decrease of one-hundred points [ 100 ] from the user's chakra stat, not including the seventy-two [ 72 ] cost to utilize.

| If the rapiers travel as far as two hundred [ 200 ] meters or more, the power stat will begin to decrease by twenty [ 20 ] points per meter. This is due to the influence of a physical system without physical interaction by Tifa's mind; the further away they are from her range, the weaker each rapier becomes.
Combination:
NONE | ISOMETRIC TECHNIQUE
Name:
金の結晶女王のガード | GŌRUDOKURISUTARU JOŌ NO GĀDO | GOLD CRYSTAL QUEEN'S GUARD
Rank:
S [ LIMITED ]
Cost:
72
Upkeep:
60 CHAKRA
Type:
NINJUTSU | DEFENSIVE
Element:
SHŌTON
Range:
0 - 1 METER [ SELF-RANGE ]
Speed:
600
Power:
250
Handseals:
DOG—BOAR
Description:
Defensive | This technique is the defensive behalf of Gold Crystal: Royal Arms. Instead of summoning a barrier of crystalline weapons to surround Tifa's being, she can invoke crystalline discs that act as motion censored shields. Similar to Gold Crystal: Royal Arms, the Shōton user must first envelope the entirity of his or her being with crystalline shards. These particles are approximately eighteen [ 18 ] millimeters in width, but once they expand to create platelet shields, they will reach to be sixty-five [ 65 ] centimeters. Twenty-two [ 22 ] discs will appear after expansion, but only twenty [ 20 ] will remain sixty-five [ 65 ] centimeters; separated from the revolving miniature discs will be two elongated plates, each expanding ninety [ 90 ] inches in diameter. The superior plate floats four [ 4 ] feet atop the user's head, whilst the inferior plate rests amongst the ground just beneath their feet. The twenty lone discs will continuously revolve around Tifa whilst the larger two remain idle. Depending on the given speed stat, these discs will be triggered by movement, and whisk toward any object or technique that may be projected toward her being.

| Because Shōton [ Crystal Release ] cannot crystallize chakra or raw energy—for they have no physical mass to crystallize— those with good chakra control or Raiton / Katon natures can counter this technique.

| The power of a Queen's Guard plate [ 250 ] is derived from the endurance of the crystal itself. Due to Shōton having a static endurance of six-hundred [ 600 ], the power will increase by that number [ 600 ] against any nature; this will not apply against Raiton or Katon techniques for the reason listed above, and will remain at two-hundred and fifty [ 250 ].
Combination:
VARIOUS SHŌTON TECHNIQUES
_________________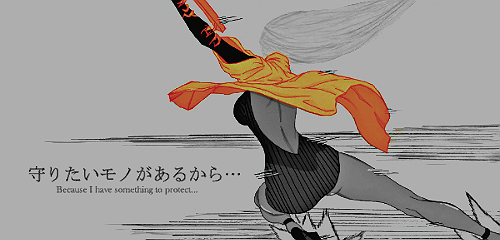 Posts

:
79
Join date

:
2016-03-09
Age

:
22
Location

:
Sippin' wine in Purgatory.
Character sheet
Element:
on Thu Nov 17, 2016 4:27 pm
*Note: The scythe looked so much cooler in my head as I was drawing it, but my hand was not cooperating...my bad ~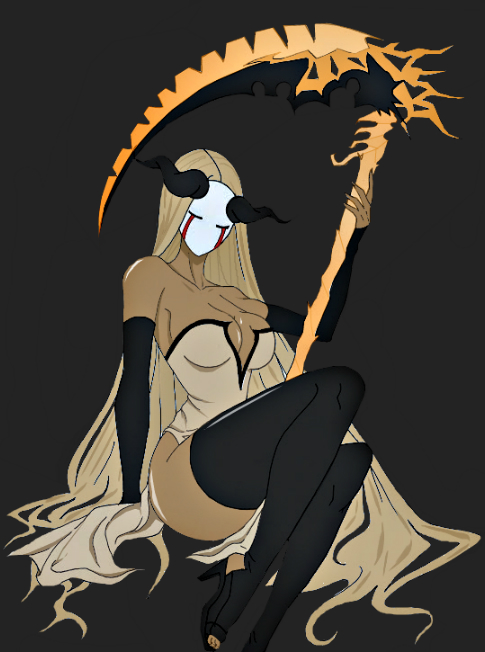 Name:
タータラスのシシス | THE SCYTHE OF TARTARUS
Rank:
A
Cost:
62
Upkeep:
N/A
Type:
NINJUTSU | OFFENSIVE
Element:
SHŌTON
Range:
0 METERS [ SELF - RANGE ]
Speed:
[ DETERMINED BY USER'S SPEED STAT ] | + 50 SPEED INCREASE
Power:
300
Handseals:
SNAKE — OX — SNAKE — HORSE—OX—SNAKE
Description:
The Scythe of Tartarus is a Shōton technique that allows Theophania to manipulate crystal to condense into a lethal scythe of the 'underworld' that specializes in aerial attacks, containing abilities that are centered around giving her weightlessness and agility in order to move through the air and traverse the environment with ease. The name of this technique originates from an ancient mythological figure known as Tartarus, a deity who was the keeper of a deep abyss—a hell also known as Tartarus—that is used as a dungeon of torment and suffering for the wicked, as well as the prison for titans. Similar to Topaz Crystal Blade, the scythe is birthed from a portal. Following in position of performing the necessary hand-seals, a gaping portal of illuminating white will appear along the ground—dubbed as 'The Vortex To The Underworld' by past opponents due to its location amongst the ground—that reaches approximately five [ 5 ] feet long. From a crouching position upon the ground, Theophania will then drive the entirety of her arm through the anterior view of the pit-less portal, appearing to be reaching far into the 'underworld'. Once the arm is torn back outward from the portal, she will be equipped with a daunting scythe. With a crystallized shaft that stands seven [ 7 ] feet tall, its length provides her a decent range when striking. From the heel to the toe of the arched blade, its length measures to be sixty [ 60 ] inches (five [ 5 ] feet long). Because the girth of this scythe is thin—aerodynamically designed—it allows Theophania to effortlessly cut through the air and swing the object around. Following each slash and strike, the scythe leaves behind a light, luminous streak of gold in its wake, similar to the color of the weapon [ topaz ].

| Due to its thin structure and specialization in aerial attacks, the power stat of this technique is not very high, only consisting of three-hundred [ 300 ].

| When utilizing the technique, the user is granted a fifty [ 50 ] point increase to their speed stat if they have a mastered skill point of five [ 5 ] in BUKIJUTSU; this increase does not stack per post, and the additional fifty [ 50 ] will be removed from the user's speed once The Scythe of Tartarus is no longer in use.

| Despite its thin structure, the scythe wields an endurance of five-hundred [ 500 ] due to the nature of its composition [ SHŌTON ].
| AERIAL ATTACKS |
• SUCCUBUS'S KISS: If above an enemy in mid-air, this attack allows Tifa to hook an enemy below her and yank them into the air with her; this can be followed by a slash or close-range offensive technique of any sort.

• KARMA'S SHREDDER: Holding the scythe off to the side or in front of her being, Tifa will vertically spin The Scythe of Tartarus like a propeller, allowing her to deflect oncoming weapons [ kunais, shurikens, etc. ] or slash continuously—as it spins—an opponent. If Karma's Shredder is not blocked, it will hit a total of ten [ 10 ] times at once; the given amount of hits is only possible due to the speed of the technique.

• HELLION'S STREAK: This attack is achieved by doing a forward lunge that ends with a sweeping spin of the scythe.

• HACK N' SLASH: This attack is a continuation slicing and dicing—if the opponent does not block or counter—opponents with this extension. In a single combo—if it is not blocked—Hack N' Slash will hit a total of five [ 5 ] times at once.
Combination:
VARIOUS SHŌTON TECHNIQUES
_________________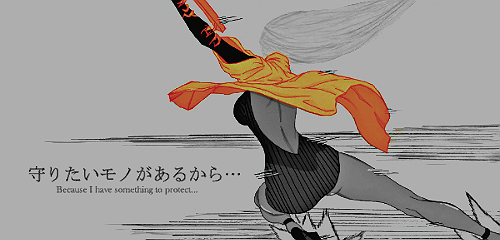 Posts

:
79
Join date

:
2016-03-09
Age

:
22
Location

:
Sippin' wine in Purgatory.
Character sheet
Element:
on Thu Nov 17, 2016 4:49 pm
Approved, BTW that Scythe remind me of the Designs from Aq Worlds xD

Similar topics
---
Permissions in this forum:
You
cannot
reply to topics in this forum